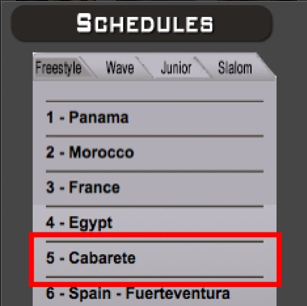 We were all stoked to see
Cabarete on the PKRA Tour schedule for 2014.
Although there was never a formal announcement, there was definitely a page on
PKRA website
with a date and a listed event coordinator at some point.
I think most of us noticed that Cabarete was on the schedule while was watching the PKRA live feed from Panama, where hometown rider, Robinson Hilario came in second place.
I thought it would be good for SEO to be the first in Cabarete to write a news article on it, so on Jan 1st I typed up an email with a few questions regarding the event. I never heard back. At the time I had been helping local rider Elvis Pichardo get his paperwork together, so I was in regular contact with the organizers. The email regarding the Cabarete event was the only one ignored.
I figured maybe they didn't like one or two of my questions. For example: "What prompted the decision to come back to Cabarete after not being here since 2010?" Sure, it was a bold question, but it was juicy and everyone would want to know the answer. Then I noticed some activity on the PKRA Cabarete Facebook page and my faith was restored. Everyone I talked to "in-the-know" was positive it was already happening. I didn't want to be the only cynic, so I happily accepted that it would be here in June. I even considered entering just so I could check it off my bucket list. Why the heck not?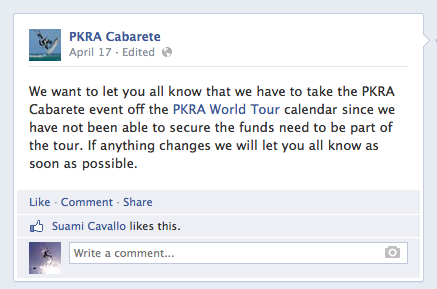 Anyhow, last week the PKRA Cabarete Facbook page announced that there would be no PKRA Cabarete event, citing they couldn't secure enough funds. I also just checked the PKRA website and all previous signs of the Cabarete event have been erased. BOOOO!!!!
It would be nice if the big companies that have enough money to throw a huge Semana Santa party every year could find it in their pocket book to support a good cause like the PKRA event.
After all, I am not sure how many Dominicans have made a career out of Semana Santa, but I can sure name a few who have made a career out of kiteboarding. One of the biggest names being Ariel Corniel. Presumably, kiteboarding was their only ticket off this island. There is so much talent on this beach, it is sad that it will go undiscovered because it is just too far out of reach for a lot of the local kiteboarders to travel to a big event such as the PKRA.
All we can do is hope that Cabarete can be put back on the calendar for PKRA in 2015. In the meanwhile, we will just be here kiting 300 days per year and enjoying all of the local talent for ourselves anyways.
On a happier note, check out these PKRA Cabarete throwback videos we found from 2007, which Ariel Corniel won. Susi Mai is hosting and Ariel and Alex can't speak a lick of English! Kites are high, but the tricks are still powerful. It's pretty awesome.
Who do you recognize from this video?